Malcolm II
King of Scotland
AKA:
Máel Coluim mac Cináeda , The Destroyer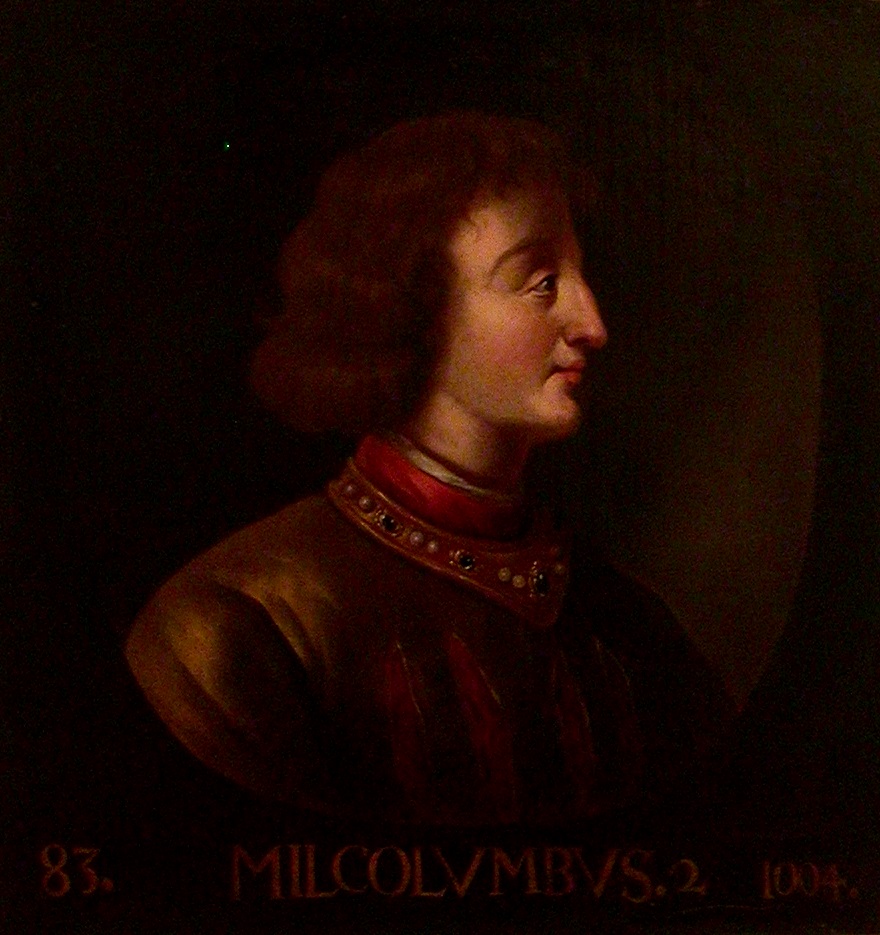 Malcolm II (Gaelic: Máel Coluim; c. 954 – 25 November 1034)[1] was King of the Scots from 1005 until his death.[2] He was a son of King Kenneth II; the Prophecy of Berchán says that his mother was a woman of Leinster and refers to him as Forranach, "the Destroyer".
To the Irish annals which recorded his death, Malcolm was ard rí Alban, High King of Scotland. In the same way that Brian Bóruma, High King of Ireland, was not the only king in Ireland, Malcolm was one of several kings within the geographical boundaries of modern Scotland: his fellow kings included the king of Strathclyde, who ruled much of the south-west, various Norse-Gael kings on the western coast and the Hebrides and, nearest and most dangerous rivals, the kings or Mormaers of Moray. To the south, in the Kingdom of England, the Earls of Bernicia and Northumbria, whose predecessors as kings of Northumbria had once ruled most of southern Scotland, still controlled large parts of the southeast.
Malcolm II was born to Kenneth II of Scotland. He was grandson of Malcolm I of Scotland. In 997, the killer of Constantine is credited as being Kenneth, son of Malcolm. Since there is no known and relevant Kenneth alive at that time (King Kenneth having died in 995), it is considered an error for either Kenneth III, who succeeded Constantine, or, possibly, Malcolm himself, the son of Kenneth II.[5] Whether Malcolm killed Constantine or not, there is no doubt that in 1005 he killed Constantine's successor Kenneth III in battle at Monzievaird in Strathearn.[6] John of Fordun writes that Malcolm defeated a Norwegian army "in almost the first days after his coronation", but this is not reported elsewhere. Fordun says that the Bishopric of Mortlach (later moved to Aberdeen) was founded in thanks for this victory over the Norwegians.