The Leadership of Sam Walton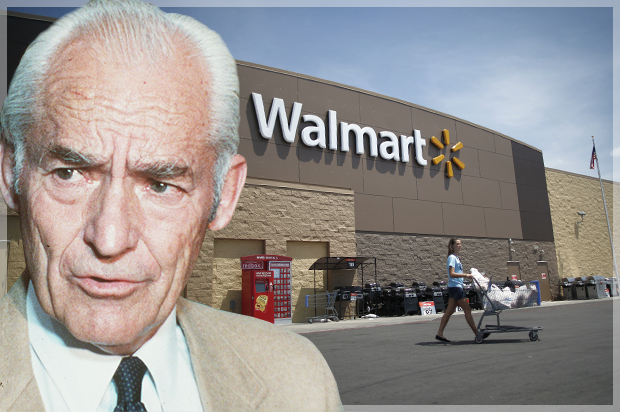 Abstract
Sam Walton is best known for being the founder of Wal-Mart, the most successful retail outlet in the world. Sam Walton was able to provide leadership to transform his innovative concepts into a revolution within the industry. Even after his death in 1992, his legacy continues to inspire other leaders who would like to enjoy the same success. Leaders can study Sam Walton's leadership skills and use them as a model to sharpen their own skills.
The Leadership of Sam Walton
Introduction
Exceptional leadership is a critical factor in making any organization successful. An individual that is a true leader will be able to take a company to a place they wouldn't go to by themselves by providing vision, direction, and passion. Sam Walton is acknowledged as one of the few leaders in the 20th century who built an entrepreneurial empire based on his own vast array of leadership expertise. An introduction to the various distinct leadership roles will be presented in addition to an examination of the prevalent leadership roles that Sam Walton possessed.
The Competing Values Framework
Leadership Roles
The Competing Values Framework consists of eight distinct roles that leaders perform in an organization. Each role consists of different attributes that belong to an individual leader that will demonstrate their function in the organization. This model and framework is created to provide assistance in recognizing organizational dynamics and notions concerning the rationale and structure of work, interactions among workers, and decision-making functions. The eight roles are the mentor, facilitator, monitor, coordinator, director, producer, broker, and innovator (Quinn, Faerman, Thompson, & McGrath, 2003).
The Mentor
A mentor is a leader that holds a wealth of experience and is a trusted advisor (Jewell, 2001). An individual who retains mentor traits will be characterized by being a caring and kindhearted leader. A manager who is a mentor will focus on building on open and fair relationship with his subordinates as each one of them was a protégé. A mentor will take the time to listen to an employee's concerns and will extend his/her help whenever possible. Mentors recognize that people are essential resources that can be continually cultivated. The mentor role can also be described as the human concerned role because of the focus on human relations (Quinn et al., 2003).
For a mentor to be successful, they must have a comprehensive understanding of themselves and others. Mentors ought to learn the strong and weak characteristics of each employee. With this knowledge, a mentor can allocate tasks to individuals that would exploit their strong abilities to better serve the organization. A mentor may also elect to introduce tasks that focus on weaknesses and help them grow and broaden their skills. Additionally, a mentor will be familiar with their personal strengths and weakness. These strengths can be passed on to the individuals that are under their guidance (Quinn et al., 2003).
A good mentor will have the capability to influence behavior of others and replicate valuable skills to subordinates. Mentors can help mold potential leaders and inspire them to follow in their footsteps. Not only does this improve the leadership skills of others, but it causes the mentor to be a more valuable asset to the organization. Many companies with strong leadership can trace their expertise and values back to a single leader who mentored others. A single leader can transfer their attributes to others that in turn, can be passed down through the future generations to come (Maxwell, 1998).
The Facilitator
The facilitator role is a human relations role as well. Like the mentor, the facilitator is proficient in their listening skills, is kindhearted towards others and is sensitive to the concerns of others. While a mentor may focus on individual development primarily on a one on one basis, a facilitator will focus their attentions to providing cohesion within a group (Quinn et al., 2003). Facilitators will skillfully expedite the needs of a group to build a model working team environment (Jewell, 2001).
The facilitator themselves, must be a team player and be able to put together an efficient team that is dedicated to a shared objective or purpose. Team members must be given clear roles that can mutually support each other. Additionally, teams must be able to effectively communicate among each other and possess a sense of responsibility. Successful facilitators will listen to the input from team members to make certain decisions. At times where there mat be conflict within the team, a facilitator must be able to take the steps to help resolve any issues that may arise (Quinn et al., 2003).
The Monitor
A monitor can be described as a person that exams or alerts others about an operation or circumstance. A monitor can further be depicted as a watchdog, auditor, observer, overseer, or guardian (Jewell, 2001). Monitors may be spotted in the workplace looking over employee's shoulders and gauging how procedures are being adhered to (Quinn et al., 2003).
A manager that assumes the monitor role would need to be very familiar with organizational procedures and be able to consistently notice any discrepancies in the organization. Not only should this person be able to identify any problems, they must be able to set an example for others to follow. Although a monitor may not be the most popular individual in the organization, they are an immense value to the company to ensure that consistency and quality are maintained (Quinn et al., 2003).
The Coordinator
A coordinator will cause a team to work together efficiently (Jewell, 2001). In this role, a manager will be able to delegate tasks to the appropriate personnel to obtain maximum efficiency. A coordinator must be able to ensure that different groups are operating together in harmony. As one group finishes their part of a process, the next group should be able to continue with the next step of the process smoothly under the direction of the coordinator (Quinn et al., 2003).
The Director
A director is a person who directs or controls something. A leader that possesses the traits of a director may be portrayed as a guide, leader, commander, or an executive (Jewell, 2001). A director may be the driving force behind the direction and strategy of the organization. They will have the skills to develop well thought out policies and tactics. A director who is effective leader will be able to fascinate an audience and clearly convey concepts. They will be able to set goals and objectives for an organization to concentrate on. As dynamics may change in the business atmosphere, they must be able to quickly react to those changes by amending these ambitions.  Additionally, directors must devise and organize company structures (Quinn et al., 2003).
Leaders who assume the director's role need to possess the respect of others. Followers must be able to be drawn to the leader and believe in their leadership. This charismatic magnetism is needed to attract new followers or strengthen the loyalty of those who already are devoted to the leader. Individuals are attracted to strong and competent leaders with a clear vision for success (Maxwell, 1998).
The Producer
A producer is a person who can competently compose or generate something. They can cause something to come about by organizing and supervising a task (Jewell, 2001). A producer can be described as a motivated, empowered, and committed person. Producers can be distinguished from directors because producer roles require that the leader to be able to achieve and maintain a balance between driving for effort and productivity and overall wellbeing and effectiveness. A producer will ensure that their group is productive and performing at peak performance. However, the same time the producer must be able to cultivate a positive work environment that rewards employees that perform well. Well constructed incentive systems will covey an optimistic message to workers that will aid in building loyalty and motivation with each worker. Finally, a producer must be able to effectively manage time and stress while focusing on the daily demands of productivity (Quinn et al., 2003).
As a producer, a leader must not be afraid to empower followers. Many leaders make the mistake of closing their minds to ideas from those who serve them. Leaders may also be reluctant to offer responsibilities to those who may be able to efficiently execute them in proxy for the leader. In these cases, the lead may be concerned that subordinates may be put in the spot light instead of themselves. Some may feel threatened that they are encouraging others to take over their positions if results are superior to what the leader can do. However, empowering others renders others to view their leader with more esteem thus making the leader more valuable to the company. Empowerment can improve morale and to improve efficiency in the organization (Maxwell, 1998).
The Broker
A broker is defined as an agent or negotiator who can arrange deals, sales, or other agreements (Jewell, 2001). The broker possesses highly developed social and communication skills to negotiate concepts within an organization. In this role it is essential that the individual can influence the stream of available energy and resources toward a variety of goals that may on the organizational, team, and individual levels. A broker must be confident, influential, highly knowledgeable, resourceful, and able to put together strong social networks. As a negotiator, a successful broker must be committed to all parties and appear trustworthy as well. This puts the individual in the position that they mutually respect their colleagues for the duration of negotiations as well as all other times. A broker must master valuable oral communication skillfulness to express a clear message and appear unquestionably credible and confident. These skills combined, a broker is a vital asset to the dexterity of an organization. Brokers tend to be transactional leaders where leaders attempt to motivate followers by giving them something they desire for their good performances (Quinn et al., 2003).
The Innovator
Innovators are not afraid to introduce, manage or accept changes in the work environment (Jewell, 2001). Changes in the work environment may come spontaneously and be received as undesirable annoyances. However, changes are important to react to external and internal environmental transformations. As an innovator, they must be able to conform to this changing world. Innovators must be creative thinkers and they should be capable of generating new ideas and solutions. Innovative ideas can be developed from previous methods or may be a revolutionary conception. Managers of this role need to manage and implement these changes while understanding that there may be resistance to any proposed changes. Many times, an innovator may also need to take on the role of a broker to sell or negotiate these newly communicated ideas (Quinn et al., 2003).
Leadership skills alone will not bring about successful change within an organization. Leaders must have a balance between leadership skills and essential management skills to implement long term change. These management skills include the ability to pursue objectives, coordinating for implementation and controlling the progression of changes to keep efforts successful (Kotter, 1996).
Likewise, superior management without good quality leadership dexterity will seldom cause an organization to achieve a successful transformation. Leaders that lack charisma will have a difficult time when nonconformist are resistant to the changes proposed. Charisma can be used to convince followers that change is necessary and achievable. Charismatic leaders can also sell the notion that the group will be better off after the transformation is complete. However, the lack of a well constructed strategic plan will result in failure. This failure may cause followers to lose confidence in the leader's credibility (Kotter, 1996).
Sam Walton
Wal-Mart Background and History
Wal-Mart Stores, Inc. is currently the world's leading retailer, boasting $256.3 billion in sales in the 2003 fiscal year. The corporation has more than 1.3 million employees worldwide. Wal-Mart has more than 4,900 facilities around the world that are comprised in all 50 states, Puerto Rico, and eight foreign countries. The company claims that more than 100 million patrons per week visit their stores globally. Wal-Mart competes in the industry by offering everyday low prices to their customers that are hard to beat by local competitors. Wal-Mart is proficient in lowering the cost of merchandise through negotiations with suppliers and by competently administrating their distribution system. While saving customers cost, the company offers elevated customer service that is rarely present among other major competitors at the same price (Wal-Mart, 2004).
Sam Walton was the founder of Wal-Mart owned variety stores. As Sam Walton expanded he began to experiment with large variety stores, which he named Walton's Family Centers. His first retail store was called Walton's Family Centers, and opened in 1962 in St. Robert, Missouri, a town with a population of 1,500. The flagship store, which was 13,000 square feet size, had to be increased to 20,000 square feet in less than a year, and its annual sales volume of $2 million made it the nation's second largest Ben Franklin store in regards to sales revenues. The St. Robert outlet demonstrated that a store in a small town could attract numerous customers from considerable distances and produce a considerable volume of business if it offered a wide mixture of goods at lower prices. Based on the success of the St. Robert store, Walton developed a second, 13,000 square foot Family Center in Berryville, Arkansas, a town with a population of 2,000, and a third such outlet in Bentonville. By 1962, Walton and his brother Bud owned and managed 16 variety stores in Arkansas, Missouri, and Kansas, making theirs the biggest independent variety-store chain in the United States. From Sam Walton's leadership and management techniques is how Wal-Mart formed into the massive organization that it is today (Fitzgerald, 2002).
The basis for Wal-Mart's popular success is because it still follows Sam Walton's values.  Sam Walton gave each store a hometown identity where each person is welcomed personally, each store honors a graduating high school senior with a college scholarship, bake sales are to benefit a local charity determined by associates, and the prices are consistently lower than other local competitors. Wal-Mart goes according to what Sam Walton believed, "Each Wal-Mart store should reflect the values of its customers and support the vision they hold for their community" (Fitzgerald, 2002).
The Definitive Director
Out of the various leadership roles that Sam Walton's guidance provided, his clear dominant role was that of a director. Walton was the motivating force behind the vision and direction of the company (Walton & Huey, 1992). Visions help employees share a clear sense of what the company is striving for (Spurge, 1997). Sam was truly the beat of the heart of the company.  Sam firmly believed that embedding a strong company culture into Wal-Mart was the primary key to success. Sam believed that once this was accomplished that he could then use this extraordinary culture to set goals and objectives to win customers over by designing and organizing effective business strategies (Walton & Huey, 1992).
Sam Walton's reputation for providing direction within Wal-Mart was so admired that even his prevalent rivals envied him. Harry Cunningham, former Kmart CEO declared, "Sam's establishment of the Walton culture throughout the company was the key the whole thing." Cunningham also further declared, "He is the greatest businessman of the Century" (Walton & Huey, 1992, p. 156). Walton believed that if he could direct an optimistic company culture that started at the top ranks, he could permeate that positive atmosphere downward the corporate ladder. One of the unorthodox traditions that he would accomplish this was to gather company executives, managers and associates together every Saturday to lead in a thunderous Wal-Mart cheer session. On occasions, he would travel to local stores to lead them in victory rallies as well.  Additionally, Walton frequently attempted to capture the attention of his employees to keep them interested in the company goals and visions. Sam did not allow himself or any of his millionaire executives from clashing with the established hometown personal culture that the company was supposed to represent. He frequently scolded his executives if they appeared at Wal-Mart wearing lavish clothes and driving luxurious cars. He preferred that executives appeared to be a representative of the simple and trusting image that Wal-Mart was supposed to be comprised of. His charismatic personality was able to draw people towards him and his vision (Walton & Huey, 1992). Sam Walton would often communicate to his management, "Capital isn't scarce; vision is" (BrainyQuote, 2004).
Same Walton's vision that he used to inspire his employees was a straightforward one. The secret to the success of Wal-Mart, according to Walton, would be to give the customers what they desire. He would focus on directing the company to offer service that would formulate into creating an environment where customers would have the best experience possible and would want to return repeatedly. The recipe that he directed for success was to offer a wide assortment of quality merchandise at the lowest possible prices, customer satisfaction guaranteed guidelines, pleasant and well-informed service representatives, and convenient store hours. The challenge for Sam was to keep the company focused on these ambitions no matter how gigantic the company became. He consistently would ensure that each new store stuck to his revelation that the customer was the reason that Wal-Mart was in business. Sam would frequently pass out buttons for employees with different mottos that would reflect this philosophy. One button read, "Our people make the difference" which was designed to remind customers and employees as well that Wal-Mart placed their customers first (Walton & Huey, 1992). Sam viewpoint was, "There is only one boss, the customer. And he can fire everybody in the company from the chairman on down, simply by spending his money somewhere else" (BrainyQuote, 2004).
Sam Walton proved his director role further by introducing and commanding a ten-step process for success. This ten-step practice was based on being aware of the mistakes made by Sam himself or by observing other companies. This ten-step philosophy directed by him committed the organization to have an embedded partnership with employees, customers, suppliers, and the community. This philosophy was rooted into the culture of the company (Refresher Publications, 1999). The ten-step philosophy entitled "Ten Rules for Success" is included in the appendix of this text.
The Lucid Innovator
Sam Walton was a genuine innovator who came up with his own philosophies for conducting business. He constantly sought-after change to improve the system and developed novel measures to adapt to Wal-Mart's overwhelming growth and profitability concerns. To do this, he had to think creatively as well as to encourage others to furnish their own resourceful ideas that would enhance the organization. Sam was known as being a master at implementing changes that he was passionate about within the company (Walton & Huey, 1992). Loretta Boss Parker, who was Walton's personal secretary for 25 years testified that, "His mind works ten times faster than everybody else's. If he gets something in his mind that he needs to be done regardless of what else might have been planned, the new idea takes priority, and it has to be done now" (Walton & Huey, 1992, p. 116).
While other companies like Kmart and Target would only operate in larger cities and towns, Sam Walton formed the concept of building a store chain that would offer discounted merchandise to small towns. Each store was designed to be an integral part of the host town. As the company swelled, the threat of losing that hometown store feel would be an issue to be contended with. He would not allow any of his stores to have the corporate atmosphere that competing stores had created. To offset any potential threats to this culture and to sustain that hometown Wal-Mart signature, Walton would continuously generate fresh ideas to keep his vision alive. One of the creative solutions that he implemented was to transform the perception of the everyday Wal-Mart employee that worked in the local stores. Walton relabeled these workers from being referred to as "employees" to obtaining the new title of "associates". The purpose of this change was to empower the employee and make them feel as if they were an important partner at Wal-Mart. Furthermore, customers could see that the company was indeed displaying a hometown friendly atmosphere (Walton & Huey, 1992).
Another change that was introduced by Walton to uphold the Wal-Mart hometown tradition was to add friendly greeters to the front entrances of each location. These greeters would enable to store to offer an immediate contact upon entering the store in a neighborly fashion. Walton felt that all customers should feel as if they were the number one concern of the company. In this way, customers would be able to get immediate assistance if needed, unlike other competitors where customers would have to hunt down employees for assistance (Walton & Huey, 1992).
Further evidence of Sam Walton's leadership taking on the innovator's role lies within the comments of current Wal-Mart CEO David Glass. Glass wrote, "He gets up everyday bound and determined to improve something" (Walton & Huey, 1992, p. 39). Not only could Sam Walton's leadership provide exciting changes, he could successfully implement these changes managerially (Walton & Huey, 1992). Sam Walton himself declared, "I have always been driven to buck the system, to innovate, to take things beyond where they've been" (BrainyQuote, 2004).
The Kindhearted Mentor
Sam Walton was a successful mentor as well. He clearly understood himself and the desires of others. He appeared to have understood the needs of employees and customers meticulously. He aimed to provide a real relationship with his employees while making his customers feel as important assets to his company. He could communicate with clarity and passion to an individual to make them feel as if his words were genuine. Moreover, he developed and molded his executive staff into compassionate leaders as if they we following in his footsteps (Walton & Huey, 1992). Walton urged, "Outstanding leaders go out of their way to boost the self-esteem of their personnel. If people believe in themselves, it's amazing what they can accomplish" (BrainyQuote, 2004). He spent time with the people around him to become familiar with them and give them guidance (Walton & Huey, 1992).
Sam stated that, "I'm optimistic that we can rely on a sound future generation of leaders, but it's up to all of us to help ensure the right educational opportunities to guarantee it" (Walton & Huey, 1992, p. 176). Walton preferred to set an example to other by giving donations to various originations to give back to the community. Frequently these donations were given anonymously or under strict requests for no publicity. One of these funds that Walton created was to create scholarships to send students from Central America to colleges in Arkansas. His intentions were to help them learn about the potential of the free enterprise system. He felt that this knowledge would enable them to return to their home country and make their own fortunes. Walton wanted to leave a legacy for others to follow (Walton & Huey, 1992).
Walton adamantly believed that effective communication was the key to success. He believed that unambiguous communication was the most vital aspect in any given company. Walton himself was able to deliver his messages to the public, employees, and his business partners with absolute authority and enthusiasm. Although Walton utilized satellite communication to keep in contact with his enormous empire, he preferred to converse with people in person. He was aware that personal communication was his forte. He would constantly travel from store to store in locations around the world to personally communicate his vision to inspire them. Walton's leadership unmistakably encouraged others to follow in his footsteps (Walton & Huey, 1992).
Conclusion
Under the drive, vision and inspiration of Sam Walton, Wal-Mart's phenomenal growth and pursuit of excellence is unparalleled. Even a decade after his death, Wal-Mart continues to adhere to his principals and the guidance that his leadership bestowed. Many companies have borrowed some of his beliefs and management techniques to improve their own companies. Few businessmen have impacted society directly or indirectly the way Sam Walton has. Successful leadership extends past mere profitability results and can be seen in the culture of the company. Sam Walton can be looked at as a role model for all leaders to follow in their journey to success.
References
BrainyQuote (2004). Sam walton quotes and quotations. Retrieved September 2, 2004 from http://www.brainyquote.com/quotes/authors/s/sam_walton.html
Fitzgerald, K. (2002). Business biography. Retrieved August 30, 2004 from http://www.stfrancis.edu/ba/ghkickul/stuwebs/bbios/biograph/walton1.htm
Jewell, E. (ed.). (2001). The oxford american desk dictionary and thesaurus. New York: Berkley.
Kotter, J.P. (1996). Leading change. Boston: Harvard Business School Press.
Maxwell, J.C. (1998). The 21 irrefutable laws of leadership. Nashville, TN: Thomas Nelson.
Quinn R, Faerman S., Thompson M., & McGrath M. (2003). Becoming a master manager. John Wiley and Sons, Inc.
Refresher Publications. (1999). Sam walton's 10 rules for success. Retrieved September 1, 2004 from http://www.refresher.com/!walton
Spurge, L. (ed.). (1997). Knowledge exchange business encyclopedia illustrated. Santa Monica, CA: Knowledge Exchange.
Wal-Mart (2004). Wal-mart stores, inc. at a glance. Retrieved September 1, 2004 from http://www.walmartstores.com
Walton, S. & Huey, J. (1992). Sam walton: Made in america. New York: Bantam.
Appendix
Sam Walton's "Ten Rules for Success" was the strength behind forming the culture of Wal-Mart (Refresher Publications, 1999).
Commit to your business. Believe in it more than anything else. If you love your work, you'll be out there every day trying to do the best you can, and pretty soon everybody around will catch the passion from you – like a fever.
Share your profits with all your associates and treat them as partners. In turn, they will treat you as a partner, and together you will all perform beyond your wildest expectations.
Motivate your partners. Money and ownership aren't enough. Set high goals, encourage competition and then keep score. Make bets with outrageous payoffs.
Communicate everything you possibly can to your partners. The more they know, the more they'll understand. The more they understand, the more they'll care. Once they care, there's no stopping them. Information is power, and the gain you get from empowering your associates more than offsets the risk of informing your competitors.
Appreciate everything your associates do for the business. Nothing else can quite substitute for a few well-chosen, well-timed, sincere words of praise. They're absolutely free and worth a fortune.
Celebrate your success and find humor in your failures. Don't take yourself so seriously. Loosen up and everyone around you will loosen up. Have fun and always show enthusiasm. When all else fails put on a costume and sing a silly song.
Listen to everyone in your company and figure out ways to get them talking. The folks on the front line – the ones who actually talk to customers – are the only ones who really know what's going on out there. You'd better find out what they know.
Exceed your customer's expectations. If you do they'll come back over and over. Give them what they want – and a little more. Let them know you appreciate them. Make good on all your mistakes, and don't make excuses – apologize. Stand behind everything you do. 'Satisfaction guaranteed' will make all the difference.
Control your expenses better than your competition. This is where you can always find the competitive advantage. You can make a lot of mistakes and still recover if you run an efficient operation. Or you can be brilliant and still go out of business if you're too inefficient.
Swim upstream. Go the other way. Ignore the conventional wisdom. If everybody is doing it one way, there's a good chance you can find your niche by going exactly in the opposite direction.

©2018 Michael A. Hartmann
This work is licensed under a Creative Commons Attribution 4.0 International License. Usage permitted with proper citing with author and source location.