James Earl Carter Jr.
39th President of the United States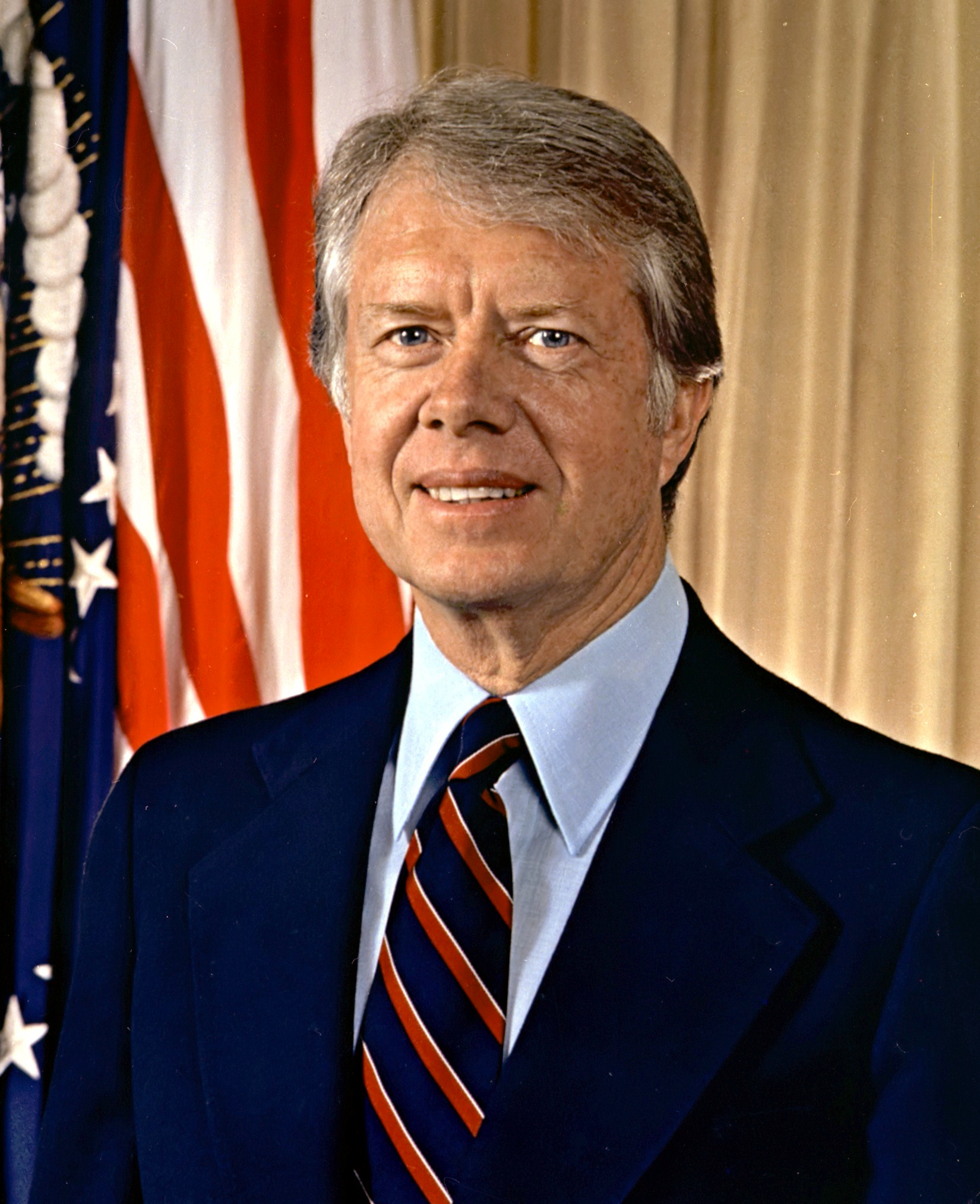 James Earl Carter Jr. (born October 1, 1924) is an American politician who served as the 39th President of the United States from 1977 to 1981.[1][2] A Democrat, he previously served as a Georgia State Senator from 1963 to 1967 and as the 76th Governor of Georgia from 1971 to 1975. Carter has remained active in public life during his post-presidency, and in 2002 he was awarded the Nobel Peace Prize for his work in co-founding the Carter Center. He is currently the earliest-serving living former U.S. President.[3]
Raised in a wealthy family of peanut farmers in the southern town of Plains in Georgia, Carter graduated from the United States Naval Academy in 1946 with a Bachelor of Science degree and joined the United States Navy, where he served on submarines. After the death of his father in 1953, Carter left his Naval career and returned home to Georgia to take on the reins of his family's peanut-growing business. Despite his father's wealth, Carter inherited comparatively little due to his father's forgiveness of debts and the division of the estate among the children. Nevertheless, his ambition to expand and grow the Carters' peanut business was fulfilled. During this period, Carter was motivated to oppose the political climate of racial segregation and support the growing civil rights movement. He became an activist within the Democratic Party. From 1963 to 1967, Carter served in the Georgia State Senate, and in 1970, he was elected as Governor of Georgia, defeating former Governor Carl Sanders in the Democratic primary on an anti-segregation platform advocating affirmative action for ethnic minorities. Carter remained as Governor until 1975. Despite being little-known outside of Georgia at the start of the campaign, Carter won the 1976 Democratic presidential nomination and entered the presidential race as a dark horse candidate. In the presidential election, Carter defeated incumbent Republican President Gerald Ford in a close election.
On his second day in office, Carter pardoned all the Vietnam War draft evaders. During Carter's term as president, two new cabinet-level departments, the Department of Energy and the Department of Education, were established. He established a national energy policy that included conservation, price control, and new technology. In foreign affairs, Carter pursued the Camp David Accords, the Panama Canal Treaties, the second round of Strategic Arms Limitation Talks (SALT II), and the return of the Panama Canal Zone to Panama. On the economic front he confronted persistent stagflation, a combination of high inflation, high unemployment and slow growth. The end of his presidential tenure was marked by the 1979–1981 Iran hostage crisis, the 1979 energy crisis, the Three Mile Island nuclear accident, and the Soviet invasion of Afghanistan. In response to the invasion, Carter escalated the Cold War by ending détente, imposing a grain embargo against the Soviets, enunciating the Carter doctrine, and leading an international boycott of the 1980 Summer Olympics in Moscow. In 1980, Carter faced a primary challenge from Senator Ted Kennedy, but he won re-nomination at the 1980 Democratic National Convention. Carter lost the general election in an electoral landslide to Republican nominee Ronald Reagan. Polls of historians and political scientists usually rank Carter as a below-average president.
Early life
James Earl Carter Jr. was born on October 1, 1924, at the Wise Sanitarium (now the Lillian G. Carter Nursing Center) in Plains, Georgia, a hospital where his mother was employed as a registered nurse. Carter was the first U.S. president to be born in a hospital.[5] He was the eldest son of Bessie Lillian (née Gordy) and James Earl Carter Sr. Carter is a descendant of English immigrant Thomas Carter, who settled in Virginia in 1635. Numerous generations of Carters lived as cotton farmers in Georgia. Carter is also a descendant of Thomas Cornell, an ancestor of Cornell University's founder, and is distantly related to Richard Nixon and Bill Gates.[6]
Plains was a boomtown of 600 people at the time of Carter's birth. Carter's father was a successful local businessman, who ran a general store, and an investor in farmland. He previously served as a reserve second lieutenant in the U.S. Army's Quartermaster Corps during World War I.
The family moved several times during Carter Jr.'s infancy.[5] The Carters settled on a dirt road in nearby Archery, which was almost entirely populated by impoverished African American families. They eventually had three more children: Gloria, Ruth, and Billy. Carter got along well with his parents, although his mother worked long hours and was often absent in his childhood. Although Earl was staunchly pro-segregation, he allowed his son to befriend the black farmhands' children. Carter was an enterprising teenager who was given his own acre of Earl's farmland where he grew, packaged, and sold peanuts. He also rented out a section of tenant housing that he had purchased.[5]
Education
Carter attended the Plains High School from 1937 to 1941. By that time, the Great Depression had impoverished Archery and Plains, but the family benefited from New Deal farming subsidies, and Earl took a position as a community leader. Young Jimmy was a diligent student with a fondness for reading. A popular anecdote holds that he was passed over for valedictorian after he and his friends skipped school to venture downtown in a hot rod. Carter's truancy was mentioned in a local newspaper, although it is not clear he would have been valedictorian anyway.[7] Carter's teacher, Julia Coleman, was an especially strong influence. As an adolescent, Carter played on the Plains High School basketball team; he also joined the Future Farmers of America and developed a lifelong interest in woodworking.
Naval career
Carter had long dreamed of attending the U.S. Naval Academy in Annapolis. In 1941, he started undergraduate coursework in engineering at Georgia Southwestern College in nearby Americus. The following year, he transferred to the Georgia Institute of Technology in Atlanta, and he achieved admission to the Naval Academy in 1943. He was a good student but was seen as reserved and quiet, in contrast to the academy's culture of aggressive hazing of freshmen. While at the academy, Carter fell in love with his sister Ruth's friend Rosalynn Smith, whom he would marry shortly after his graduation in 1946.[8] He was a sprint football player for the Navy Midshipmen.[9] Carter graduated 60th out of 820 midshipmen in the class of 1946 with a Bachelor of Science degree and was commissioned as an ensign.[10] From 1946 to 1953, Carter and Rosalynn lived in Virginia, Hawaii, Connecticut, New York and California, during his deployments in the Atlantic and Pacific fleets.[11] In 1948, he began officers' training for submarine duty and served aboard USS Pomfret. He was promoted to lieutenant junior grade in 1949. In 1951 he became attached to the diesel/electric USS K-1, (a.k.a. USS Barracuda), qualified for command, and served in several duties including Executive Officer.[12]
In 1952, Carter began an association with the US Navy's fledgling nuclear submarine program, then-led by Captain Hyman G. Rickover. Rickover's demands on his men and machines were legendary, and Carter later said that, next to his parents, Rickover was the greatest influence on his life.[13] He was sent to the Naval Reactors Branch of the Atomic Energy Commission in Washington, D.C. for three-month temporary duty, while Rosalynn moved with their children to Schenectady, New York. On December 12, 1952, an accident with the experimental NRX reactor at Atomic Energy of Canada's Chalk River Laboratories caused a partial meltdown resulting in millions of liters of radioactive water flooding the reactor building's basement and leaving the reactor's core ruined.[14] Carter was ordered to Chalk River to lead a U.S. maintenance crew that joined other American and Canadian service personnel to assist in the shutdown of the reactor.[15] The painstaking process required each team member to don protective gear and be lowered individually into the reactor for a few minutes at a time, limiting their exposure to radioactivity while they disassembled the crippled reactor. During and after his presidency, Carter said that his experience at Chalk River had shaped his views on atomic energy and led him to cease development of a neutron bomb.
In March 1953 Carter began nuclear power school, a six-month non-credit course covering nuclear power plant operation at Union College in Schenectady,[11] with the intent to eventually work aboard USS Seawolf, which was planned to be one of the first two U.S. nuclear submarines. However, Carter's father died two months before construction of Seawolf began, and Carter sought and obtained a release from active duty to enable him to take over the family peanut business. Deciding to leave Schenectady proved difficult. Settling after moving so much, Rosalynn had grown comfortable with their life. Returning to small-town life in Plains seemed "a monumental step backward," she said later. On the other hand, Carter felt restricted by the rigidity of the military and yearned to assume a path more like his father's. Carter left active duty on October 9, 1953.[17][18] He served in the inactive Navy Reserve until 1961, and left the service with the rank of lieutenant.
His awards included: the American Campaign Medal; World War II Victory Medal; China Service Medal; and National Defense Service Medal.[20]