John Calvin Coolidge Jr
30th President of the United States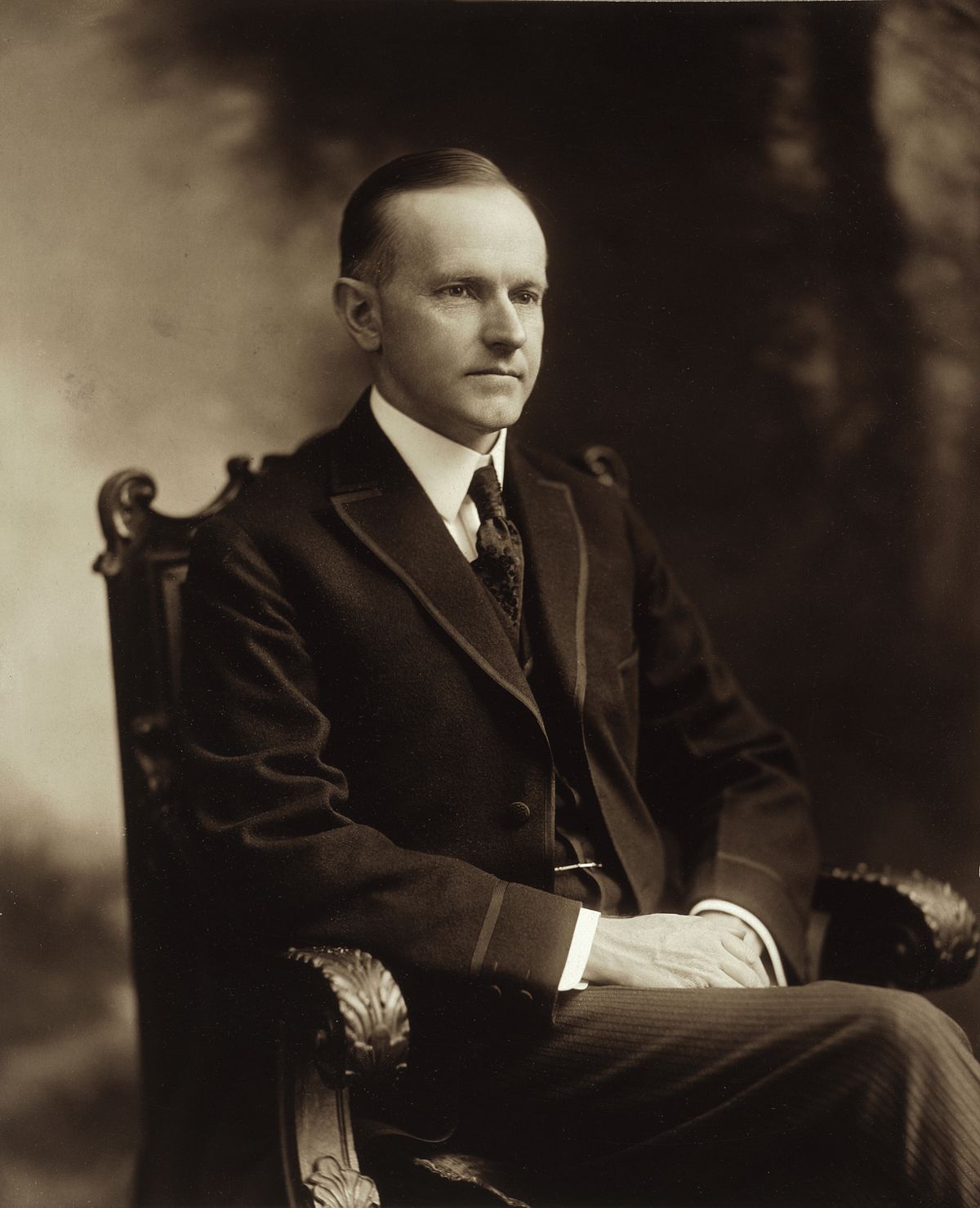 John Calvin Coolidge Jr. (/ˈkuːlɪdʒ/; July 4, 1872 – January 5, 1933) was an American politician and the 30th President of the United States (1923–1929). A Republican lawyer from New England, born in Vermont, Coolidge worked his way up the ladder of Massachusetts state politics, eventually becoming governor. His response to the Boston Police Strike of 1919 thrust him into the national spotlight and gave him a reputation as a man of decisive action. Soon after, he was elected Vice President of the United States in 1920, and succeeded to the presidency upon the sudden death of Warren G. Harding in 1923. Elected in his own right in 1924, he gained a reputation as a small government conservative and also as a man who said very little, although having a rather dry sense of humor.
Coolidge restored public confidence in the White House after the scandals of his predecessor's administration, and left office with considerable popularity.[1] As a Coolidge biographer wrote: "He embodied the spirit and hopes of the middle class, could interpret their longings and express their opinions. That he did represent the genius of the average is the most convincing proof of his strength".
From 1948 to 2018, mainstream scholars have ranked Coolidge as a below-average president. He is praised by advocates of smaller government and laissez-faire, while supporters of an active central government generally view him less favorably, though most praise his stalwart support of racial equality.[3]
Birth and family history
John Calvin Coolidge Jr. was born in Plymouth Notch, Windsor County, Vermont, on July 4, 1872, the only U.S. president to be born on Independence Day. He was the elder of the two children of John Calvin Coolidge Sr. (1845–1926) and Victoria Josephine Moor (1846–1885). Coolidge Senior engaged in many occupations and developed a statewide reputation as a prosperous farmer, storekeeper, and public servant. He held various local offices, including justice of the peace and tax collector and served in the Vermont House of Representatives as well as the Vermont Senate.[4] Coolidge's mother was the daughter of a Plymouth Notch farmer. She was chronically ill and died, perhaps from tuberculosis, when Coolidge was twelve years old. His younger sister, Abigail Grace Coolidge (1875–1890), died at the age of fifteen, probably of appendicitis, when Coolidge was eighteen. Coolidge's father married a Plymouth schoolteacher in 1891, and lived to the age of eighty.[5]
Coolidge's family had deep roots in New England; his earliest American ancestor, John Coolidge, emigrated from Cottenham, Cambridgeshire, England, around 1630 and settled in Watertown, Massachusetts.[6] Another ancestor, Edmund Rice, arrived at Watertown in 1638. Coolidge's great-great-grandfather, also named John Coolidge, was an American military officer in the Revolutionary War and one of the first selectmen of the town of Plymouth.[7] His grandfather Calvin Galusha Coolidge served in the Vermont House of Representatives.[8] Coolidge was also a descendant of Samuel Appleton, who settled in Ipswich and led the Massachusetts Bay Colony during King Philip's War.[9]